by kalyani10
Finding a single man to date seems difficult at the best of times. But trying to find a guy who is single and successful at the same time seems like looking for the proverbial needle in the haystack. The secret to this, as most women being indulged by rich partners will tell you, lies in knowing where to look. So if you are single and find yourself in Indy, here are a few ways you can meet rich men.
TIP: MillionaireMatch has many rich single men from Indianapolis looking for women to date and marry.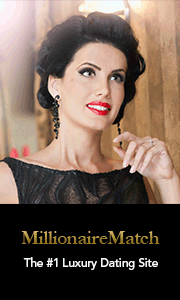 Corporate Honchos
The economy of Indianapolis has traditionally been anchored in manufacturing which along with healthcare services and retail trade continues to be among the biggest employers in the city. The city is in fact home to several major multinational companies like pharmaceutical manufacturer Eli Lilly and Company, wireless distribution & logistics provider Brightpoint, health insurance provider Wellpoint, Republic Airways Holdings, REIT Simon Property Group, and retailer Finish Line Inc. The industrialists and senior management executives thus make up one of the most promising segments of the singles male population. So if you want to be dated in style, consider chatting up corporate big-wigs and rising entrepreneurs at the usual hangouts in the central business district of Downtown Indianapolis, the Indianapolis Convention Center as well as other centers of private investment like Broad Ripple, Massachusetts Avenue and Pennsylvania Avenue.
Meet millionaire men at MillionaireMatch.com.

Auto Majors

Indianapolis is a good place to look for successful men who are directly or indirectly related to the automobile industry. Till the establishment of Detroit as the center of American automobile industry, Indianapolis was home to several carmakers like American Motor Car Company, Parry Auto Company and Premier Motor Manufacturing. Several auto parts manufacturers like Prest-O-Lite too had base in the city. However today Indianapolis is better known as home of the Indy 500, an open-wheel automobile race which is also the largest single-day sporting event in the world. So when Memorial Day comes around, get decked up in your best and head for the Indianapolis Motor Speedway. Once there look for the premium priced seats from where you can not only get a better view of the winners but also get to know the successful-looking guys in the neighboring seats. Yet another place where you can try your luck in meeting rich racing enthusiasts in Indianapolis is the Lucas Oil Raceway which till recently was known as the Indianapolis Raceway Park. Apart from hosting several NASCAR events, it also hosts midget car racing, drag racing, road racing, sprint car and crown events. And if you are the ambitious sort, you can even aspire to meet the successful race drivers who are known for their glamorous and wealthy lifestyle.

Exclusive Restaurants

Wealthy singles who have both discriminating tastes as well as the resources to indulge them are also likely to be found at the most exclusive dining destinations of the city. Some of the fine dining establishments that are well known in Indianapolis for their wealthy clientele are the Du Soleil on Washington Street, Aggio, Eddie Merlot, Mama Carollas, R Bistro, Puck's and the restaurant at the Canterbury Hotel. The Eagle's Nest at the Hyatt Residency is the city's only rooftop revolving restaurant while Ruth's Chris Steakhouse in downtown city is where the wealthy go when in the mood for some wholesome American fare. The only catch is that most of the guests arrive at a fine dining restaurant in company and so you may have to wait a while to catch the eye of a person who is actually unattached. However given the fact that such exclusive addresses attract only the affluent and discriminating, the end result may be well worth the wait.

Upscale bars

However if you want to hang out at a place where you have more chances of meeting rich singles, the upscale watering holes of Indianapolis are a better idea. The city offers a whole range of happening nightspots ranging from sports and beer bars to cocktail and lounge bars. The Blue Martini and Olive's are some of the hippest bars which have a great selection of wines, cocktails and martinis apart from some groovy music to attract a wealthy clientele. however if you are looking for a place boasting of a great atmosphere as much as its pricey patrons, you can try your luck at the city's famous lounge bars like Nicky Blaine, Gelo and Forty Five Degrees. Then again Indy being the home of avid sports fans, you can check out the various sports bars of the city like Union Jack Pub, Old Pros' Table, Jillian's, Ale Emporium and Coach's Tavern. While all of these may not be among the most expensive hangouts of Indianapolis, wealthy sports fans may well be found in these haunts soaking up some adrenalin-filled atmosphere and some nice chilled beer. Finally if you are looking to dance away the night with a rich date, head for upscale nightclubs like Seven which is the place to be seen at Indianapolis or the Slippery Noodle Inn which is the oldest live music bar in the city and famous for its jazz and blues.

Affluent Neighborhoods

While exclusive restaurants and bars might be the best way to meet rich singles who are out to have a good time, being a part of an affluent neighborhood offers even more chances to run into guys who are probably making more than million a year. in Indianapolis some of the most expensive residential areas are Broad Ripple which is famous for its high-end retail and dining destinations, the Meridian Street and Alpha Street for its historic mansions built during the industrial boom, Meridian-Kessler with its stately homes and boulevards, the aristocratic Golden Hill and newer suburbs like Crow's Nest, Williams Creek as well as Meridian Hills. And even if you cannot afford a place in these exclusive neighborhoods, try frequenting its parks and cafes so that you can get chatting with the locals.

Indianapolis is not only the capital city of the state of Indiana but also one of the largest and busiest cities of Midwest America. Here you can be sure to make friends and meet people according to your preferences and that includes rich single guys as potential dates.