by kalyani10
Finding a guy to date is hard enough in these times but looking for a rich dating partner can get downright difficult. However if you live in Manchester and like to be taken out in style, here are a few ways you can meet and date rich men from one of the world's first industrial cities.
TIP: Millionaire Match is a millionaire dating website that specializes in matchmaking between millionaires and women who want to marry them. They have a large number of members from UK.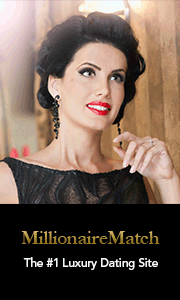 Industrial Barons
Manchester was one of the most important centers of Industrial Revolution which ushered in modern and heavy industries in the world. tI was especially the cotton industries which led to the phenomenal growth of Manchester during the nineteenth century. Today even though industries and cotton products no longer make up the primary economic activities of the city, the commercial legacy of the Industrial Revolution is evident in the fact that the city continues to be the base of several profitable manufacturing companies. So if you are keen to date rich men in Manchester, look for the industrial bigwigs and the big corporate honchos. A good place to frequent would be the fashionable watering holes of the commercial center of the city which extends from Mosley Street and Deansgate to Kings Street and Piccadilly. Wait for the late evening hour at the expensive pubs when most of the executives and owners of companies might descend for a drink before heading for their luxury homes. Lounge at the bar for a few minutes and when the timing is right, make eye contact with the wealthy guests or perhaps even ask if they would like to buy you a drink.
Meet millionaire men at MillionaireMatch.com.

City professionals

Today Manchester is no longer the dark grey industrial behemoth of the nineteenth century. It is now a thriving city of professionals where the major chunk of economic activities is driven by the services sector which covers legal, accounting, management consultancy as well as financial services like banking, investment and insurance. So by all means make friends with the guy in pin-striped suit and who knows you may be setting up yourself for a luxurious personal life. Spinningfields is the new commercial hub in Manchester and here is where you can look for cafes and pubs to come across the young, upwardly mobile professionals of the city.

Sporting heroes

With two Premier League Football clubs based in the city, Manchester is a thriving base for ambitious sportsmen, both in terms of on-field achievements and financial contracts. Manchester City and Manchester United are the best known sporting clubs of the city and both are believed to be among the richest football clubs in the world, courtesy its billionaire owners. Thus it is hardly a surprise that the clubs' most successful players can earn in millions of dollars in contracts when they give evidence of their sporting prowess. So make sure to be a frequent visitor to numerous stadiums in Manchester like the Old Trafford Ground or the City of Manchester Stadium which are known for hosting high-profile games. Alternatively if you are attracted to old money, you could keep an eye out for the wealthiest patrons of cricket at the Lancashire County Cricket Club.

Upscale hangouts

Like any other world class city, Manchester has a thriving recreational scene with hangouts ranging from exclusive bars frequented by celebrities to quaint pubs which serve local delicacies. Panacea is one of the former which is patronized by the rich and famous of the football scene while Manchester 235 is a plush casino and cocktail bar in the great northern warehouse. The Living Room and Cocoa Rooms are other destinations which are popular with TV stars and other personalities from the entertainment world. However if you are looking to meet someone from the traditional wealthy classes, try and wrangle an entry to the members-only Manchester Press Club.

Expensive retail outlets

If you want to meet rich single men, you have to know where they shop. Manchester not only ranks as one of biggest retail areas in UK but the Manchester Arndale is believed to be the country's largest inner city shopping mall. The city center especially has a high profile retail landscape which includes fashionable names such as Vivienne Westwood, DKNY, Emporio Armani, Harvey Nichols, Hermes and Chanel. So make it a point to be regularly seen at these high-end boutiques if you are to make an acquaintance with a wealthy shopper who also happens to be single. If on the other hand you don't have the resources to shop at these exclusive addresses frequently, then you could get a job at any one these stores which will also throw you in proximity to rich men.

Affluent neighborhoods

In order to meet rich singles it is crucial to be seen at places where they live. In Manchester wealthy neighborhoods range from the luxury high-rises located in the center of the city like the 47-storey Beetham Tower on Deansgate and other similar expensive apartments at Salford to the suburbs where old brick mansions survive from the nineteenth centuries. In fact the southern neighborhoods after Trafford get fancier the further you go out like Stretford, Urmston, Sale, Altrincham and Hale Barns. And even if you cannot afford a pad in any one of these upscale neighborhoods, at least make it a point to frequent the cafes and stores there. Yet another good idea is to go for a morning jog or walk your dog at the parks and walking trails in these neighborhoods. The whole idea is to make yourself a familiar face so that after bumping into a rich single for a couple of times, you stand a greater chance of being asked out to a cup of coffee. Finally understand that meeting a rich date is as much a matter of chance as of practice. The longer you are at it, you will be better able to spot an eligible guy but at the same time you need Lady Luck on your side to be at the right place and at the right time.