by kalyani10
Known as the Gateway to the Americas, Miami is one of the most important centers of commerce, fashion, culture and media in southeastern United States. In fact a 2009 study 1 of seventy three global cities carried out by financial consultancy group UBS ranked Miami as the richest city in the country and fifth in the world in terms of purchasing power of its residents. So if you are looking for Mr. Right who comes with a little bit of extra in his checking account, Miami is one of the best places to 'shop' around.
TIP: Browse photo profiles of single rich men in Miami, USA
Vacationers' Paradise
Located on the Atlantic coast, Miami is endowed with some of the most striking beaches and natural views in the world. This makes the city a popular destination for well-heeled vacationers from around the world who come here to soak in sun, sand and surf. Miami is also considered the Cruise Capital of the World with its port accommodating the largest number of passenger cruise ships on the planet. The best part of seeking to socialize with wealthy vacationing singles is that since they are here to have a good time, they are therefore keen to meet attractive young women. However make sure that you expand your search for Mr. Bigbucks to the several luxury resorts lying around Miami like the Marriott's Key Largo Bay Beach Resort, the Boca Raton, Four Seasons, Ponte Vedra, La Playa, instead of frequenting the most popular city beaches. And even if you are content enough to wait with a drink to catch the eye of that well-dressed guest, let it be somewhere like the bar at Taboo Restaurant on Worth Avenue in Palm Beach instead of some ol' hole in the wall place.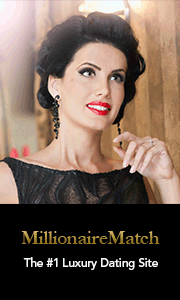 Haven for rich retirees

Florida ranks as one of the favorite destination for rich retirees in United States for a combination of financial and natural factors. In fact a 2006 report on the top ten cities with the wealthiest households published by financial news website Kiplinger.com 2 shows that at least three of them are in the state of Florida. One major reason for this could be because Florida is one of the nine states that provide exemption from personal income tax and thus is a top draw for rich entrepreneurs and inheritors looking to retire in a place where they know they don't need to share their assets with the government. Many rich men make Miami their home due to favorable fiscal policies. Besides, the natural beauty of the coast, rivers and miles of white beaches in and around Miami act like a magnet for the well heeled who are eager to live the good life in this pretty spot. This is good news for women looking to meet rich men in Miami who are not averse to spending on fun and recreation. With plenty of waterfront properties and upscale shopping arcades, Miami and its exclusive retirement havens are ideal for those with relaxation on their minds and money in their bank accounts.
Meet millionaire men at MillionaireMatch.com.

Financial Hub

Despite its depiction in popular culture as a vacationer's paradise, Miami is actually one of the most important financial centers of United States. Downtown Miami is home to the largest concentration of international banks in the country and also acts as the base for several large companies both nationally and internationally. Several factors are responsible for Miami's significance as a commercial and financial center in this part of the world. Apart from its relatively relaxed personal income taxation policy, the city also serves as the headquarters of Latin American operations for more than 1400 multinational corporations due to its proximity to Latin America. This makes Miami a top destination for the most successful financiers, bankers and wealth managers in the state as well as the southeastern part of the country. So if you are keen to romance the fat cats of the finance world, explore the upscale pubs and restaurants in Bricknell, Miami's primary finance district, as well as Virginia Key, Watson and the Port areas which make up Downtown Miami and who knows you may get lucky enough to find your own personal accountant as well.

Media Hotspot

Miami is a thriving center of art, fashion and culture besides being home to a well established media and entertainment industry. The city plays host to several exclusive events where the movers and shakers from fashion, media and entertainment world make their appearances. Thus if you want to get hooked with someone both rich and attractive, make it a point to be seen at select screenings of plays, movie premieres, exclusive art exhibitions and launching parties of luxury brands and services. Some of the most high brow events in Miami's fashion calendar are the annual Miami Fashion Week and the Mercedes-Benz Fashion Week Miami held in the Wynwood Art District. However be certain to invest a decent amount of time and effort in looking your best, since in a place like Miami where top models from around the world flock in for assignments, you need every bit of help to put your best foot forward. You're certain to find rich men in Miami at such high profile social events.

Affluent Neighborhoods

Millionaire matchmaking experts often point out that in order to meet a wealthy single, you need to place yourself in surroundings where you will be seen quite a bit. In Miami, these would be some of the most affluent neighborhoods like the Coral Way, Coconut Grove, The Roads on the southern sides as well as Midtown, the Design District, and the Upper East Side and the Mimo Historic District in the northeastern part of the city. And even if you cannot afford a pad in most of these areas, you can always take your dog for a walk in the park, browse through the local antique boutique or relax with a book at one of the upscale coffee shops. Once you are begun to be recognized as a familiar face in the surroundings, you have a greater chance of enticing the interest of a wealthy unattached regular at the café or supermarket.

Reference: