by kalyani10
Home to some of the most fabulous recreational options in the world, Nevada nevertheless is rich in other economic resources – in all making this desert state a great place to kickstart your search for a wealthy partner.

Meet the Wealthy Miners

Nicknamed the Silver State, Nevada's past is rooted in mining. In 1849, gold was discovered in a stream near Dayton, which later led to the discovery of silver in the Comstock Lode in 1859. Since then, mining has played a vital role in Nevada's economy and continues to do so, at least in portions of the state outside of the Las Vegas and Reno metropolitan areas. By value, gold is by far the most important mineral mined. Nevada currently mines 79% of all the gold in the United States and the state accounted for 8.7% of world gold production. A number of major mining companies, such as Newmont Mining, Goldcorp and Barrick Gold Corporation, operate gold mines in the state. Active gold mines include those at Jerritt Canyon and Carlin. Other minerals mined in Nevada include silver, construction aggregates, copper, gypsum, diatomite and lithium. Continuing mining activity implies that Nevada boasts of a reasonably sized workforce made up of well-paid engineers and technicians. Besides there are the executives and owners of mining companies, which are bound to have attractive singles among their ranks. With gold at all-time high prices on a weak dollar, inflation concerns and U.S. economic uncertainty, cities like Elko which has a population 22,000, is enjoying a boom1. About 60 percent of Elko residents work for the mines or their subcontractors, putting good, steady money in their pockets. Thus if you are keen to meet wealthy men, get yourself in the social landscape of mining centers like Virginia City and Nevada City - in fact some mining companies, The Newmont Mining Corporation provides tours of the operations during the summer months. So put your best foot forward and you may just strike gold in your dating life too.
TIP: Millionaire Match has many single millionaire men from Nevada looking for women to date and marry.

Get to know the Ranchers

Cattle ranching makes up yet another important segment of Nevada's economy. According to statistics provided by United States Department of Agriculture, Nevada State Agriculture Overview – 2005 there were an estimated 500,000 head of cattle and 70,000 head of sheep in Nevada2. Over 90% of Nevada's cropland is used to grow hay, mostly alfalfa, for livestock feed. Most Nevada cattle are sold to farmers in California, Idaho, Nevada and the Midwestern states. So if you are looking for some old-fashioned indulgence in the Western style, the wealthy ranchers and livestock owners of Nevada might throw up some eligible singles. Carson Valley in northern Nevada is home to some of the state's oldest and richest ranches where you can explore community events while in cities like you can check out bars, pubs and cafes of business or downtown areas. When you're in Elko for example, you can stop by the Western Folklife Center or the Elko Chamber of Commerce Visitor Center, which is housed in Sherman Station, a turn-of-the-century, log-style ranch house. In fact some towns in the Cowboy country of Nevada even offer Western-style vacations which could be a good way to get to know the well-to-do singles in the local ranching community.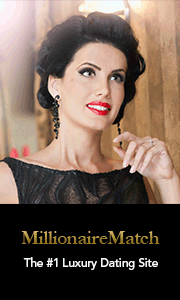 Top Honchos of Hospitality industry
Nevada's economy, however, is overwhelmingly based on tourism, especially the gambling (legalized in 1931) and resort industries centered in Las Vegas and, to a lesser extent, Reno, Laughlin and Lake Tahoe which attract visitors from around the nation and world. No wonder then the hospitality industry is one of the highest paying in the state. Nevada has by far the most hotel rooms per capita in the United States, roughly one hotel room for every 14 residents, far above the national average of one hotel room per 67 residents. The booming gaming and tourism industry in Nevada has led to some of the world's grandest hotels setting up base in cities like Las Vegas and Reno. Nevada's community, business and personal service industry accounts for about 1/3 of the state's total gross product which is a higher percentage than in any other state. Gambling, amusement and recreational services covering dude ranches, fishing resorts, hunting lodges are among other important sectors. A thriving tourism industry directly implies a budding class of hoteliers, tour operators, guides, chefs and other members of the hospitality sector who are doing well and could make eligible dates.
Frequent the luxury hotels
Apart from employing some of the best-paid professionals of the hospitality industry, the hotels and resorts of Nevada are equally great places to meet wealthy guests. Circus, Caesar's Palace, Excalibur, MGM Grand, Luxor, Mandalay Bay, Bellagio, Aria and the Palazzo are some of the biggest names on Las Vegas Strip each of which has more than 3000 rooms. In the Downtown area, hotels and resorts on the Fremont Street have been the traditional attractions and some wealthy old-timers can still be found heading for the Golden Nugget, Fitzgerald, Binion's, Four Queens and Lady Luck Casinos to soak in the old Las Vegas experience. The VIP lounges and dining areas at these expensive hotels are the likeliest places to come across gloriously rich guys since these venues cater to their regular clientele who play a lot and come down frequently to have a good time. However renting a room at these hugely expensive hotels may not be every woman's cup of tea. If so, you can always head for the bar and relax with a drink or sample a dessert at one of the hotel's coffee lounges and wait for a lucky break when an obviously wealthy guest asks for the pleasure of your company. But just like in case of casinos, looks can be deceptive since just because a guy is coming out of the VIP lounge at Mandalay Bay or Wynn's need not mean he is actually wealthy.
Meet the Federal Boys
The Federal government is one of the largest employers in Nevada with several defense and federal government facilities being situated in the state; Nellis Air Force Base and the Nevada Test Site have been the scene of much nuclear and aircraft testing; Yucca Mountain is slated to be the primary depository for U.S. nuclear wastes. Hawthorne Army Depot Creech Air Force Base Naval Air Station Fallon Tonopah Air Force Station and Winnemucca Air Force Station are some of the other defense installations in Nevada - in fact almost 80% of the state land is federally owned. The presence of so many federal and defense institutions implies that Nevada has a large pool of federal and military government officials who, while not taking home paychecks like in the private sector, wield considerable power and influence in society. Finally the best part about dating such guys is that their jobs are recession-proof which means they can continue to indulge you unlike financiers and software entrepreneurs who must rein in expenses when their business suffers.
Roll on the dice
Las Vegas is famous all over the world for its grand casinos and gaming houses and the city in fact serves as world headquarters for the world's two largest Fortune 500 gaming companies, Harrah's Entertainment and MGM Mirage. Most of Las Vegas' iconic casino resorts are located on the Strip, a high profile segment of the Las Vegas Boulevard from between the Russell Road and Sahara Avenue. Some of the biggest names on the Las Vegas Strip are Wynn's, Fontainebleau, Riviera, the Palazzo, Casino Royale, The Venetian, Imperial Palace, Flamingo, Bill's Gambling Hall and Saloon, Bellagio, Planet Hollywood, New York-New York, Four Seasons, Tropicana and Mandalay Bay towards the south. Since many of these conduct multi-billion dollar businesses every day, the high rollers of Las Vegas casinos are most likely to be found in these casino resorts. It is best to know where to look since the really loaded ones are unlikely to be queuing up at the slot machines. Rather head for the card tables or the crap tables and keep an eye out for ones that are playing for the highest stakes since the higher the bets, the richer the men playing there. However before you set your sights on the most enthusiastic player at the poker table, do some background checking to see if your target is genuine since Las Vegas casinos are also top draws for dupes and cheats just looking to pull a fast one.
Reno like Las Vegas is also known as a premier gaming destination. However Resorts have now expanded their focus beyond gaming and started to offer spa treatments, fine dining, exquisite suites, and more, thus attracting high-rolling VIPs who are keen on having a good time. You could thus check out legendary spots like Atlantis, Peppermill and Eldorado besides exploring the stretch along East Fourth Street down to South Virginia Street --- all hot spots frequented by Reno locals for jazz clubs, bars and nightlife.
Reference: