by kalyani10
Vermont is a state in the New England region of the northeastern United States. Though not known for its economic growth in recent times, Vermont nevertheless offers its residents a high quality of life. Many successful professionals and entrepreneurs can be found living here and if you are looking to date men who can offer you a comfortable dating life, the Green Mountain State may be just the place to look around.

Thriving Healthcare Sector

An increasingly aging population is expected to improve the position of aging services and health care in the state economy. In 2013, Fletcher Allen Health Care, with 7,100 employees, was the second-largest employer of people in the state and the largest private employer. In 2008, about a hundred thousand Vermonters got their health care through the federal government, Medicare, Tri-Care and the Veteran's Administration. An additional ten thousand work for employers who provide insurance under federal law under ERISA. A burgeoning healthcare industry implies a healthy corpus of doctors, nurses, paramedical personnel, researchers and executives – the best of who are likely to be taking home six figure paychecks. So keep your eye out for these professionals and you could find yourself a date with a surgeon or a manager.
TIP: Millionaire Match has many single millionaire men from Vermont looking for women to date and marry.

Meet the Hi-tech Manufacturers

By far, the production of electrical equipment like semiconductors, electrical components is Vermont's most important manufacturing activity. One of the largest electronics companies in the world produces computer components in a large plant near Burlington. Vermont's largest for-profit employer, IBM, in Essex Junction, provides 25 percent of all manufacturing jobs in Vermont, employing 5,000 workers in 2013. It is responsible for $1 billion of the state's annual economy. So if you can mingle with the engineers, managers and high-skilled technicians of the state, you are quite likely to have a comfortable dating life.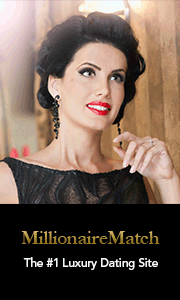 Back to the Roots
Vermont is the most important agricultural state in New England. Besides being the leading maple syrup producing state, Vermont also has an important dairy industry; the state's dairy industry is a leader in the Northeastern United States. An important and growing part of Vermont's economy is the manufacture and sale of artisan foods, fancy foods, and novelty items trading in part upon the Vermont "brand" which the state manages and defends. Examples of these specialty exports include Cabot Cheese, the Vermont Teddy Bear Company, Fine Paints of Europe, Vermont Butter and Cheese Company, several micro breweries, ginseng growers, Burton Snowboards, Lake Champlain Chocolates, King Arthur Flour, and Ben and Jerry's Ice Cream. So if you can get out in the country and meet the well-to-do farmers and entrepreneurs, you may be surprised at how generous dates they can be.
The Lucrative Tourism Sector
Currently tourism has emerged one of biggest drivers of Vermont's economy. Direct spending by visitors for goods and services totaled $1.7 billion
1
. Visitor spending supports an estimated 37,910 jobs for Vermonters which is approximately 11.5% of all Vermont jobs. In fact Visitor spending contributed $274.5 million in tax and fee revenues to the State of Vermont. Some of the most favored destinations in Vermont by visitors are the skiing areas which are among the largest in the region. Skiers and snowboarders visit Burke Mountain Ski Area, Bolton Valley, Stowe, Smugglers' Notch, Killington Ski Resort, Mad River Glen, Sugarbush, Stratton, Jay Peak, Okemo, Suicide Six, Mount Snow, Bromley, and Magic Mountain Ski Area. Summer visitors tour resort towns like Stowe, Manchester, Quechee, Wilmington and Woodstock. Controlled Hunting is allowed in the state for black bear, wild turkeys, deer, and moose. Also summer camps contribute to Vermont's tourist economy. Finally The Green Mountain State is the home to many wineries and in the country and one of the most beautiful here is Grand View Winery in central Vermont. Producing wine from grapes, blueberries, apples, cranberries and other fruits, the Grand View Winery offers tastings to its exclusive visitors as well as the opportunity to learn about the wine-making process. All these tourist attractions imply that professionals and entrepreneurs associated with Resorts, hotels, restaurants, and shops are some of the most successful in the state and are likely to make for eligible dates.
Winter Pleasures at Stowe
The combination of magnificent Mount Mansfield and the old world charm of Stowe Village has long beckoned visitors to this mountain retreat. And if you are crazy about winter sports, this ski resort town should be your destination to look for wealthy dates since the mountains at Stowe play host to some of the best skiing and snowboarding in the country and thus attract the wealthiest vacationers. With an average snowfall of 22 feet, Stowe is typically blanketed in white from mid-November through April. Stowe Mountain Resort, with 13 lifts and hundreds of kilometers of groomed and backcountry trails is perfect to get going for adventure sports lovers. Best of all, there are trails for skiers of all levels and accommodations for all lifestyles. Again skiing isn't the only winter sport a couple can enjoy either. Ice fishing, sledding, snow tubing, winter hiking, snow shoeing and sleigh riding are just a few of the fun, cold weather activities in which rich visitors can partake when visiting Stowe. Additionally there are museums and art galleries right here in the village, and an incredible array of artists, artisans and crafts people plying their talents and selling their wares. So when in Stowe, drop in at places like Hourglass which is all ski-chic sophistication, complete with fireplaces and a giant hourglass hanging behind the bar. Few dining rooms in Vermont are more majestic than that of Solstice at the Stowe Mountain Lodge, with its towering, Adirondack-craft-style walls – these places are likely to be patronized by the swish set and if lucky, you may come across an eligible single too.
Frequent Upscale Hangouts
Home to the University of Vermont, Burlington is the largest city in the state and is considered one of its hippest. The Magic Hat Brewing Company located on Barlett Bay Road in South Burlington, offers tours for visitors to enjoy one of their special brews. Leunig's is one of Burlington's toniest watering holes while Stone Soup is a new name in Burlington dining which is attracting an exclusive clientele for its fresh, local ingredients, delicious, creative food and a community atmosphere. Carpenter & Main in Norwich is again fine dining destination attracting well-heeled guests. Located in Weathersfield, Lucy's Tavern at The Vertera Inn is one of the best places for a luxury dinner. In the capital city Montpelier, Three Penny Taproom features dozens of craft and micro brews from all over the place while Positive Pi 2 is an upscale pizza and pasta place boasting of trendy decor and many local microbrews on tap. Chef's Table is another place where the smart and beautiful people like to dine. So if you drop in at these venues, you are quite likely to make the acquaintance of a single with deep pockets and discriminating tastes.
Be seen at the right places
Once of the most effective ways to be thrown in with rich single men is to live where they do. In some of the places which enjoy the highest per capita income in Vermont are Old Bennington and Manchester in Bennington County which are designated under National Register of Historic Places. Shelburne is a town in southwestern Chittenden County which also has affluent residents. In South Burlington, richest neighbourhoods are Brand Farm Drive, Queen City Park, City Center and Williston Road. In Montpelier posh areas are Elm Street, City Center, Dog River Road, Vermont College of Fine Arts. However even if you cannot afford a place here, try to frequent the parks, riverfront avenues and cafes in the exclusive residential areas which will also help you to come across the most eligible singles.
Reference: