by kalyani10
The female equivalent of a sugar daddy, a sugar momma is a rich older woman who offers professional and financial support to young male protégé in exchange of companionship and usually sexual favors. Such women may range from rich heiresses who find themselves single in their sunset years to highly successful women who now have the time and resources to attract the most desirable partners they can afford which are usually good-looking younger men. If you have a thing for older women and would like a shortcut to success, here are a few tips in meeting and dating a sugar momma.

Attend a charity gala

Most people who have made or inherited a fortune are actively involved in a favorite cause. This is even truer of rich women who are single and thus free to spend their money as they wish. Fund-raising galas and charity dinners are thus perfect places to meet wealthy women who can afford a rich and young lover. And even if you find most of the rich single women arriving at these $500-a-plate dinners with a partner in tow, most of them will probably be companions just for the evening. So go ahead and compliment the lady on her antique emerald choker and who knows you might end up with an invitation to her penthouse for the weekend.
TIP: Millionaire Match has many rich women from North America and Europe looking for men to date

Go shopping

Wealthy women who are free to indulge themselves in multiple ways are extremely likely to be found frequenting upscale retail stores, shopping to their heart's content. So hang around in sections like apparel, jewelry, footwear, accessories and other luxury products which make a lifestyle statement and you may be lucky to attract the attention of a wealthy shopper who doesn't mind sharing the goodies with her toy-boy.

Seek a mentor at the workplace

While the workplace is considered as more of a likely venue to find a sugar daddy, in these days of female professionals reigning at the top corporate positions, you can just as well find a lady mentor to give your personal and professional life a boost. Financial professions like banking and investments, advertising, media, fashion, business and the corporate world are some of the places where you are likely to find successful women professionals. Best of all, these professions involve a great deal of networking which in turn would allow you the right opportunities to meet single and successful women even if you cannot get a job in their company or workplace. However first ensure that you create a good impression on them professionally, before you venture to establish a more personal connection.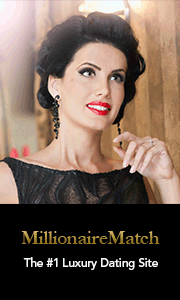 Hangout at party hotspots
On the other hand if you are not really confident of your professional skills, a great idea to meet rich women would be to frequent places where they go to have a good time So drop in at fashionable pubs, upscale wine bars or exclusive clubs where they are likely to be found chilling out. If you find entry to these venues too expensive, try to arrive as a rich friend's guest or wait for occasions where you can act as a volunteer. Luxury spas and health resorts are other destinations where you might end up meeting millionaire women, looking to pamper their bodies. Unlike successful professionals who may be busy adding on to their millions at the office, the women you meet here during the working hours are more likely to be rich heiresses and wealthy divorcees who need to find ways to spend their money.
Be seen at lifestyle events
Again, if you want to catch the eye of the jet-setting unattached socialites, make sure you are present at events where the crème de la crème of society go to see and be seen. Lifestyle events could range from exclusive premieres of movies and promotional parties of luxury brands to high-brow art auctions. Turn out in your best at these venues if you don't want to get overshadowed by all the pretty looking boys who throng these events for practically the same reason as you. Also if you end up attracting the attention of a likely partner, ensure that you highlight some aspect of your personality like a quick wit or high-class sophistication which will set you apart from the many men who are equally eager to snag a wealthy partner. Remember the competition is pretty stiff out there and no matter how persistent you are in your efforts to find a rich mate, you need to give evidence of something extra in order to clinch the deal.
Be sure to indulge her
A woman who has ample resources at her disposal might not seem to want anything at all. Such a woman has the ability to buy what she wants, when and where she wants. She is more often than not showered with presents by her family, friends and admirers so that her bureau is spilling over with perfume and jewelry while her closet has no more space for furs and gowns. Even then all women like to be indulged now and then, even by their cub lovers. So how about making her something that could never be duplicated in the market? If you are the artistic type, gift her a painting that you have made. Or if you can wonders with wood and a chisel, why don't you make her a jewelry box in which she can keep her pearls and emeralds. Then again you can always pamper her with a relaxing back rub or a sensual foot massage. Or perhaps treat her to a three course dinner that you have cooked yourself. A woman who has everything will perhaps appreciate your undivided attention more than anything else. Let her know you are there for her and will do her bidding. Make it fun like presenting her with a certificate with your particulars printed on it and the period for which you are available. She might find it funny at first but she is sure to be pleased by your romantic gesture. A sugar mommy usually comes with a nice sized ego too and as she sees you taking genuine efforts to indulge her, she will ensure that the returns are equally generous.
Challenges involved
Despite the many material and social advantages a sugar mommy brings, you need to be prepared for certain challenges too. You and your patroness probably belong to two different generations. It is unlikely that you share many of the same kind of interests and pursuits. Sexual attraction can do only so much to keep a couple together. To be in a long term relationship it is essential that two people share common values, life goals and enjoy the same kind of social activities.
Even if you are only interested in a short-term mutual companionship, consider how long your charms are going to last. Sugar mommy dating is a good bargain for men who are young and sexually desirable and expect to be indulged in a relationship. However your rich and successful partner is more likely to have the upper hand in the equation. She is the one with the money and probably commands respect in business and society too – in other words she has all the counters of a successful life. As such you may find that your sugar mommy setting most of the terms in the relationship. Moreover such wealthy patronesses are in very short supply and you may have to keep competition from other young men at bay. And who is to say that just like you caught her attention at a charity gala, she would not desire a new toy-boy she meets at a page three party tomorrow. In the end dating a sugar mommy is a highly complex exercise where you need to keep your wits about you all the time.