by kalyani10
The natural beauty and rich cultural heritage of Ireland makes living and loving in this country even more of a satisfying experience. Add to that a rich lover and heaven seems just within your reach. So if you live in Ireland and wish to make the best of your charms, here are a few ways to meet and date rich men in Ireland.
TIP: Millionaire Match is a matchmaking website that specializes in playing cupid betweem millionaires and women who want to date them. They have a large number of memberss from Europe including from Ireland.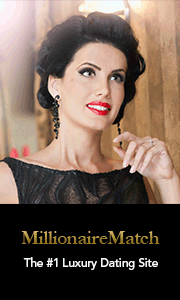 Keep a lookout for the corporate honchos

Even though Ireland was largely bypassed by the Industrial Revolution of the nineteenth century, it saw a dramatic economic reversal in the 1990s. Nicknamed the 'Celtic Tiger', the Irish economy experienced massive surge in the period 1995-2007. Part of this was driven by relatively low corporate tax which encouraged globally recognized companies like Dell, Intel and Microsoft to set base in Ireland. The consequence was a surge in the reputation and income level of professionals in the higher levels of management. Chief executive officers and managers thus continue to be among the best-paid professionals in Ireland. According to an independent survey, the CEO's job may touch 150,000 Euros a year, depending on the size of the company and its location. The best executive jobs tend to be in marketing followed by sales, finance and technical departments. In terms of departments, the best paid managers are those in production and manufacturing, followed by those in Information Technology, administration and marketing or sales, finance and accounting, and finally HR. So the next time you are invited to a corporate function, you know which are the appointments you should be particularly nice to.
Meet millionaire men at MillionaireMatch.com.

Financial services

The transformation of Ireland from an agricultural to a service-oriented economy was largely brought about by the professionalization of financial services like banking, investment and insurance. This makes bankers, wealth managers and investment consultants some of the best-paid professions in Irish economy. In general the plum appointments in the finance industry like finance analysts or the head of an accountancy firm can expect to bring with them salaries worth six figures in the range of 100,000 to 120000 Euros annually. Now that you know how much these finance fat cats are worth, try to look for them in upscale bars and exclusive restaurants located in the central business districts of major cities like Dublin or Belfast. The former is in fact the nerve center of Irish finance industry and is also home to the International Financial Services Centre where currently more than 430 financial operations allowed to trade. According to the official website it also houses more than half of the world's 50 largest banks.

Jazz it up

Some of the richest individuals in Ireland belong to the entertainment industry, according to a March 2004 report in the Independent website (http://www.independent.ie/national-news/irelands-100-richest-worth-23bn-478380.html ). U2, Michael Flatley, Moya Doherty and John McColgan, Enya and Van Morrison all figure in the Independent's list of the hundred richest people in Ireland. In fact the four members of U2 alone were worth 790 million Euros while dancer Michael Flatley was estimated to be worth around 425 million Euros in the report. So if you are partial towards a life of glamour and razzmatazz, the entertainers may be just the right people to socialize with. Music, dance, film production and theater may all have their fair share of wealthy singles. In fact according to an independent survey, earnings by established film directors in Ireland can peak at 100,000 Euros a year, especially for those who are working in independent ventures or for big overseas production houses. And Ireland with its rich heritage of culture and art offers several opportunities both to experienced as well as budding artists looking to make it big. Some of the theaters and music halls which you can frequent in hopes of meeting a famous name are the Grand Canal Theater, the Gaiety and they Abbey besides festivals like Ulster Bank Dublin Theater Festival and the Dublin Culture Night.

Sporting heroes

Apart from traditional Irish music and whiskey, sports figures as the other most popular pastime among the Irish people and the rich ones are no different. Known as one of the richest men in Ireland, JP MacManus is famous for his interests in horse-racing and at one time he even owned 28.89 per cent shareholding in Manchester United F.C. with partner John Angier. Then there are Formula 1 millionaires Eddie Jordan and Eddie Irvine who are worth 112 million Euros and 82 million Euros respectively. Soccer players in the country are particularly well paid, witness the whopping $127,230 a week contract offered to John O'Shea by the club Old Trafford which if accepted would make O'Shea the highest-paid soccer player in the country. Among other games which are popular in Ireland and where you could look for a date with decent earnings are horse riding, boxing, ice hockey and rugby. Stadiums like the Croke Park, the Landsdowne Road Stadium and the Aviva Stadium in Dublin as well as the Odyssey Arena and the Stormont in Belfast are most high-profile sporting venues where you can come across a wealthy fan.

Upscale hangouts

Traditionally the Irish enjoy their social lives. And even though the wealthy singles may be cooped up in their workplaces for most of the day, few of them are likely to be complete workaholics and would rather chill out at the end of the day with a bottle of Guinness. So if you know which bars and hangouts to frequent, you stand a good chance of coming across a rich guest. The Cassidy's in Dublin is located in the heart of the city and is a hit with the city young and beautiful crowd as much for its exotic cocktails as for its traditional spirits. The Taphouse and the Nick's Warehouse are some places in Belfast where the rich and beautiful like to be seen. On the other hand the Bulman in Kinsale, County Cork or the O'Connell's in Skrynne Hill, County Meath might appear to attract the more discriminating guests despite their remote locations.